The sales of our anti-fascist t-shirts have made it possible to donate over $3000 USD to different anti-racist fundraisers during the last year. 2016 was a year where the upsurge of racism and extreme right was felt in different countries which means that now more than ever, the struggles against the rise of fascism must be a priority.
Causes we donated to :
The International Anti-Fascist Defence Fund
In June 2015, the Antifa International collective launched The International Anti-Fascist Defence Fund as a standing fund to provide immediate support to anti-fascists and anti-racists anywhere in the world, whenever they found themselves in a difficult situation as a result of their stand against hate.
Modeled on the defence fund run by the Anti-Racist Action Network in the late 1990s/early 2000s, The International Anti-Fascist Defence Fund accepts proposals for support from anyone.  Decisions are made by a crew of individuals and groups who have dontated more than $20U.S./€20/£15. Those decisions are arrived at by consensus whenever possible and by a simple majority vote in situations where consensus is not forthcoming.  The Fund publishes quarterly reports on its activities here.
The International Anti-Fascist Defence Fund has been endorsed by The Torch Anti-Fascist Network in the U.S.; Föreningen Fånggruppen in Sweden; and the  Anti-Fascist Network in the UK.   The Fund now has a proven track record, having donated thousands of dollars to help out forty-eight different anti-fascists and anti-racists in ten different countries in its first year, helping with things like hospital bills, medical expenses, repairs to arson-damaged property, legal defence bills, court fines, help for families, and support for prisoners.   Full report here!
Based on this past year, we've crunched the numbers and to ensure that we can help out every anti-fascist or anti-racist that needs it over the next year, we need at least $6000.  That will be enough to ensure that we are able to provide substantial support to our allies in the fight against hate when they need it the most!
Contributing to The International Anti-Fascist Defence Fund is an excellent way to demonstrate real solidarity with anti-fascists and anti-racists around the world when it matters the most.  Please donate what you can today and please share this campaign with your friends!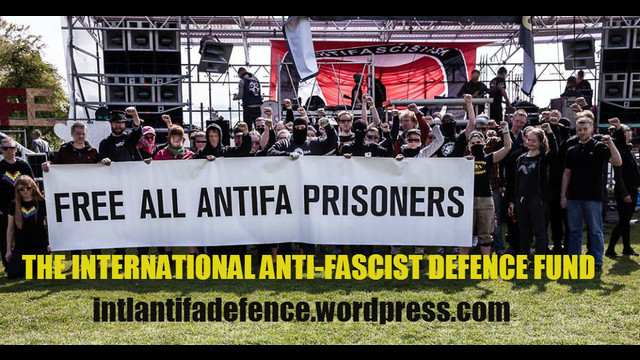 Since 2009, we have been providing merchandise at the production cost to dozens of activist organizations around the world to help finance their activities. Through activist solidarity and believing in the sharing of the means of production, our principle is to help our comrades without making any profit.
We print, you sell
Items at production cost with free shipping anywhere in the world
Offer intended for non-profit organizations, associations, unions or other groups
Minimum order of 25 items
Up to 40% off with printing on demand (any items in our inventory)
Up to 60% off screen-printing (minimum 30x the same design)
Possibility to print the logo of your association
We offer you the services of our graphic designers for free
Procedure:
Contact us first to verify your eligibility to the program by providing some information about your project and the group you represent
After receiving confirmation from us, place the order on our site normally and then forward us a copy of the invoice
You will quickly receive a refund through PayPal equivalent to the difference with the production cost
Sell your t-shirts on our site
Do you prefer to launch a fundraising campaign by selling t-shirts without having to manage the sales, the inventory, the website and all the technical aspects evolved? Submit your project and if accepted by our team, we could sell your t-shirts in our shop.
No financial implication needed on your side ! Printing on demand avoids the financial investment normally required to produce t-shirts and the risk of not selling them all. Plus, your t-shirts take advantage of the visibility of a well-established cooperative store.
Our system allows you to track sales and statistics by logging into the site via our simple interface. This allows you to see at any time all of the revenue generated by your sales. The profits are then paid to you at the chosen frequency.
With this partnership, we can provide t-shirts at production cost, even in small quantities. Ideal for smaller campaigns.

Offered services :
Graphic design optimization and preparation for sale
Managing international sales and payments
Printing and shipping of items (dropshipping)
Customer service team 7 days a week
After sales service and returns management
Computerized accounting
Free promotion
Note: we receive a large number of offers and unfortunately we can not accept all designs submitted to us.
Promotions are open to everyone, no matter your origin. All countries are eligible.
Our system automatically calculates the most beneficial promotion for each order according to the number of items in the basket. The promotion code to use is displayed just before checkout if the order is eligible.
When the payment window opens, click on "Redeem your coupon" to enter the code shown previously on the site.
The reduction will be visible on the final page and shipping costs will be removed before sending payment. The total is displayed before confirming the payment so you can see that the shipping fees were deduced.
Sales tax
There is usually no sales tax to pay. However, in the US, recent changes in US legislation now impose sales taxes but only for a few specific states. For more information, check out this list of the only places where sales taxes are required (list subject to change)
Customs fees
These charges are separate from sales taxes. Statistics show that the imposition of customs fees is a rare situation although there is always an unpredictable possibility. The shipping option "International Standard" with USPS (US Postal Service) is recommended to minimize the risk.
In some countries, an import tax may be required when a package goes through customs. The process is random and unpredictable – there is no way to completely avoid the risk. All international online orders are subject to the possibility of customs duties, no matter who the sender is. Be assured that our shop doesn't have hidden charges.
The amount of the customs tax is proportional to the total value of the order. Some postal services sometimes impose additional brokerage fees to perform customs clearance. This fee is usually charged when the package is shipped by International Premium with a private company (UPS, FedEx, DHL, etc.). By default, the standard mail (USPS) is used to minimize the risk of customs charges imposed at the reception and reduce the potential costs of these.
Numerous warnings are present on the website and in the order confirmation email. The responsibility to pay the amount requested by the customs of his country is unfortunately the customer's. However, the recipient has the right to refuse delivery and ask the postman to return the package to the sender without paying the fee. We refund the entire order as soon as a package is returned to us.
The frustration of customers being taxed is understandable, but the store can not be held responsible for fees charged by customs in the recipient country. The import tax is for the importer (the client) and not the sender. To complain about this issue, you can go to your customs agency, but their response will be that the importer is still responsible for the costs which true for all international purchases.
Customs duties on foreign products are a protectionist measure of the capitalist system. By taxing consumers who import products from abroad, the government recovers a portion of sales taxes that escapes it.
For more information
For more information about customs fees, many articles are easily found on Google. You can also contact the customs or the postal service in your country for more information.
What Wikipedia says:
A tariff is a tax on imports or exports (an international trade tariff). […] Â A customs duty or due is the indirect tax levied on the import or export of goods in international trade. In economic sense, a duty is also a kind of consumption tax. A duty levied on goods being imported is referred to as an import duty. Similarly, a duty levied on exports is called an export duty. A tariff, which is actually a list of commodities along with the leviable rate (amount) of customs duty, is popularly referred to as a customs duty.
Read more: https://en.wikipedia.org/wiki/Tariff
Solidarity with Rojava revolution and Syrian refugees! A donation of $1000 was shared among different causes and humanitarian organisations. We think that in addition to the urgent need for humanitarian aid to a war torn region, there is also a growing hope of a revolution that gets underway in Rojava.
Rojava Revolution
The dream of founding a free and independent Kurdistan has never been closer to reality than now. Alongside the war in Syria, the autonomous territory of Rojava (West Kurdistan) was born, based on principles of direct democracy, equality, ecology, feminism and collectivism. The Rojava revolution is inspired by democratic confederalism, an ideology closely tied to libertarian municipalism, an ideology from the American anarchist Murray Bookchin.
In Syria, taking advantage of the destabilization of dictator Bashar al-Assad's regime, the kurds began building their autonomy and organizing self-defense. From the beginning of the conflict, the kurds created their own self-defense militias against the barbary of Syrian army. They are called the YPG (People's Protection Units). This guerrilla quickly became Rojava's military organization by demonstrating its superiority over the Syrian forces and the Islamic State.
The YPG also has its feminist branch called the YPJ (Women's Protection Units). This women-only brigade represent over 40% of YPG forces. The jihadists have quickly learned to fear them because the belief among them pretend that the gates of heaven will be closed to those who are killed by one of these women.
Anarchists and communists also fight in Rojava under the banner of the International Freedom Battalion, based on the same principle as the International Brigades who fought against fascism during the Spanish Revolution of 1936.
Since the beginning of the war, the city of Kobane (the central region of Rojava) is one of the most devasted place. Now liberated from the occupation of the Islamic State by the guerrillas, the city is unfortunately destroyed at over 80%
Even if the dream of a "new Chiapas" is still felt, much work remains to be done and it must necessarily begin with the reconstruction of KobanĂ® and aid to 5 million Syrian refugees.
$1000 for Kobane and Rojava Revolution !
Kurdish Red Crescent:Â Humanitarian non-profit organization founded in 1993 and now have a team of 120 volunteers. The organization is involved in war zones and other countries to help those affected by poverty. They have also provided aid to the Yazidis, an ethnic minority massacred by the Islamic State.
KobanĂŞ Reconstruction Board – Help Kobane / Firefund : The organization aims to clean the city of Kobane from the debris of war and help rebuilding infrastructures and schools. They are also behind Firefund crowdfunding campaign (a new campaign is planned for November).
Hanna Böhman is a canadian who fought with the YPJ (Womens' Defence Unit), a women's guerilla fighting against Islamic State. After fighting 4 months with the kurds, she's going back to Rojave to continue the struggle with her comrades. A crowdfunding campaign is organized to help her get better equipement.
Migrant Offshore Aid Station (MOAS) is a foundation dedicated to preventing loss of life at sea by providing emergency assistance to migrants and refugees in distress situations. They have saved over 12,000 lives so far.
The Rojava Electricity Project: Crowdfunding campaign to rebuild the electricity system that was destroyed by the occupation of the Islamic State.
Note: Until December 31, 2015, the Canadian Government will match all humanitarian donations for Syria by donating the same amount. Thus, the government will give one dollar for every dollar given by Canadians to a charity organization, meaning that donations from the shop are doubled.
Two types of prints are available: ink printing (digital direct / D2G) or flex printing (vinyl heat transfer). For more information on the types of available impressions and their different characteristics, click here.
Ink printing (pixel files)

â–ş Recommended resolution:
3000x3000px (300DPI)

â–ş Maximum file size:
10MB

â–ş Accepted file formats:
.PNG (Recommended)
.GIF
.JPG (No transparent background)
BMP (no transparent background)
â–ş Size adjustment:
You can always decrease the image size without loss, whereas increasing the size may result in a distorted and more "pixelated" result.
Transparent background
 
Pixel graphics are used as the master copy for Digital Direct printing. These graphics are printed on the shirt exactly as they were uploaded. If your graphic contains a background, this will also be printed as it appears.
A common desire is to print a cropped element of an image without the background. A white background is not sufficient here as printing the design – even on white products – would result in printing the white area as well. This is why the background needs to be transparent so that our printers will ignore it.
 
If you do not want the background to be printed on the shirt, you must crop your design (meaning to cut your design from the background). By doing this, you make your design's background transparent.
Most graphics editing software programs show transparent backgrounds as a white-gray checkerboard pattern. If you upload a graphic with a transparent background, the color of the shirt will appear in those areas after the printing is finished.
Note: The PNG format is recommended for optimum quality. Most other formats do not recognize transparent zones and automatically add a white background to the graphic while recording.
Flex printing (vector files)

â–ş Accepted file formats:
.AI
.SVG
.EPS
 
â–ş Image size:
We recommend a maximum size of 11″x11″ (28x28cm) to make your design printable on as many products as possible. The maximum printing area is 15″x15″ (38x38cm).
â–ş Line thickness:
Lines as well as other parts of your design need to have a thickness of at least 1.5mm. The gap between 2 separate areas cannot be less than 1mm.
â–ş Convert to curves and paths:
Objects and texts selected for print must be converted to curves and paths. Pixel graphics cannot be used.

â–ş Anchor points:
Use a minimal number of anchor points.
Maximum 2000 anchor points by colors (max 6000 for a 3-colors design)

â–ş Colors:
For flex printing, no more than 3 colors can be used. Please note that gradients are not possible. Before creating a design, you should also have a look at the color range available.
– Link: creating multi-colored designs for plot printing
– Link: list of available colors (flex printing)
Additional informations

â–ş Why my image was rejected? Common reasons and assistance
â–ş Notes on copyrights
â–ş Difference in colors: screen vs. monitor
â–ş Increasing image resolution / Reducing file size
â–ş Fonts on the T-Shirt Designer
â–ş Manufacturers Code of Conduct
â–ş Ethical and environmental certifications on products
T-shirt designer – features overview
-> Ability to change the design print color (flex print only)
-> 200 types of clothing and accessories to customize : t-shirts, hoodies, mugs, handbags, caps, phone cases, pins, etc.
-> White t-shirts with black prints are now possible.
-> Edit a t-shirt to modify the size of the design or where it's located.
-> Add a print in the back or on the sleeves. Possibility of multiple prints (one front and one back)
-> Add your own text or your own image on our clothes
Note: A fee of 20% is charged by our printer for custom t-shirts. Total cost of $17.79 per shirt

Summary of 2015 news

-> New discounts are available, allowing for up to 15% off orders of at least 10 items. Wholesale prices are also available for 50 or more items.
-> New basket system: the baskets and transaction system has been completely redesigned from scratch to fix some bugs. A wishlist system has also been added.
-> Currency conversion: Our system now automatically detects the local currency (dollar or euro), thanks to geolocation. The system converts currency in real time with the daily exchange rate and then display the prices in your local currency.
-> New "responsive" webdesign : The structure of the website has been redesigned for better display on mobile devices. The interface now adapts to the screen size.
-> Designs identification : each individual t-shirt is now identified by a title and keywords. A search engine will be available to easily find what you are looking for.
-> New designs : new designers were hired to revitalize our inventory with about 300 new designs.
-> Several aspects of the interface has also been upgraded, many new features have been added to the back-end and we updated our security system.
We had to put our donations on hold to cover the cost of these major investments in our system, but we will be announcing new donations very soon.
We managed to negotiate better discounts with our supplier for those who want to order large quantities!

â–ş 10% off orders of 10 items or more – including free international shipping (promotion code MOLOTOV10)

â–ş 15% off orders of 25 items or more – including free international shipping (promotion code MOLOTOV15)
â–ş Orders of at least 50 articles are eligible for wholesale discounts. Contact us with the list of articles you want to buy and we will negociate the best possible price with our supplier. The price depends on several factors such as the type of printing and clothing type. We proceed case by case.
â–ş Orders of at least 50 articles with the same design are eligible for discounts of up to 50%
A new donation is added to the list as part of our support to feminist struggles. Women On Waves is a Dutch pro-choice organization that specializes in providing safe abortion means for women living in countries where abortion is illegal. Some of these services are offered on a boat that has a custom-built mobile abortion clinic.
As the Pussy Riot support ceased shortly after their release, the sales of our feminist t-shirts will now be used to fund this organization. We have just sent the first donation of $300.
Mobile abortion clinic
When
Women On Waves visits a country criminalizing abortion, women requesting this service are loaded on the ship to sail in international waters. The application of national criminal laws, and therefore abortion laws, extends only to territorial waters; beyond 12 miles (or 2 hours of navigation), it is Dutch law that applies aboard the boat, making it possible to offer safe and legal abortion services.
Women On Waves was created in 1999 by the physicist Rebecca Gomperts. Volunteers have made trips in Ireland (2001), Poland (2003), Portugal (2004), Spain (2008) and Morocco (2012). The activities in Portugal contributed to the legalization of abortion in February 2007.